The 40th Annual
Western Canada Trace Organic Workshop
was held in
Winnipeg, Manitoba
May 2 - 4, 2005
at the Clarion Hotel and Suites.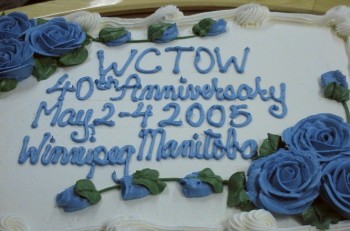 Once again, it was an excellent meeting!
Many thanks to the organizing committee,
sponsors, presenters & attendees.
Veronica Roscoe was the deserving recipient of the Caledon Award.
---
See the following links for details:

Sponsors

Final Program

Final Announcement
if you don't have Microsft Word, click here for a rich text document.
---
Photos:

Fort Gibraltor Slideshow ... photos by Dena McMartin

antics on the bus ... photos by Dena McMartin



---


Organizing Committee:

Nelson Barchuk - Canadian Grain Commission

Don Gaba - Canadian Grain Commission

Eugene Gawalko - Canadian Grain Commission

Tom Krakalovich - Health Canada

Michelle Michalchuk - Enviro-Test

Tom Nowicki - Canadian Grain Commission

Mike Roscoe - Canadian Grain Commission

Veronica Roscoe - Health Canada